Register your exhibitor badges using the credits that come with your booth.
Exhibitors receive an allotment of registration credits based on booth size to be used towards Booth Personnel Badges (2 credits) or Tradeshow Only Passes (1 credit). The sales and logistical contacts on your booth order have access to the Exhibitor Badge Registration System through their IFPA account. Once logged in, they just click "Global Show Exhibitor Badges" in the top-right corner of the screen to register.
What's Included With Your Booth?
Two (2) Welcoming Reception Tickets (these do NOT need to be assigned/registered to specific people). Additional tickets can be purchased via the online exhibitor portal in June or onsite for $125 ($190 for non-members).

An allotment of Registration Credits, based on booth size, to use toward Booth Personnel Badges or Trade Show Only Passes depending on the needs of your company
Ability to upgrade Booth Personnel Badges to All Access Passes for just $395 ($595 for non-members)

Upgrading to All Access includes general sessions and receptions.
Ability to purchase additional Trade Show Only Passes for $295 ($450 for non-members)
Each badge will display the registrant's name, city and state; and all registrants are automatically included in our online attendee list.
All retailer and foodservice operator registrations are now complimentary, so save your credits for staff and other customers.
Registration Credit Allotment
| | |
| --- | --- |
| Total Sq. Ft. | Credits |
| 80-100 | 13 |
| 200 | 22 |
| 300 | 31 |
| 400 | 40 |
| 500 | 49 |
| 600 | 58 |
| 700 | 67 |
| 800 | 76 |
| 900 | 85 |
| 1,000 | 94 |
| 1,100 | 103 |
| 1,200 | 112 |
| 1,300 | 121 |
| 1,400 | 130 |
| 1,500 | 139 |
| 1,600 | 148 |
| 1,700 | 157 |
| 2,000 | 184 |
| 2,400 | 220 |
| 2,500 | 229 |
| 3,000 | 274 |
| 3,500 | 319 |
| 3,800 | 346 |
| 3,900 | 355 |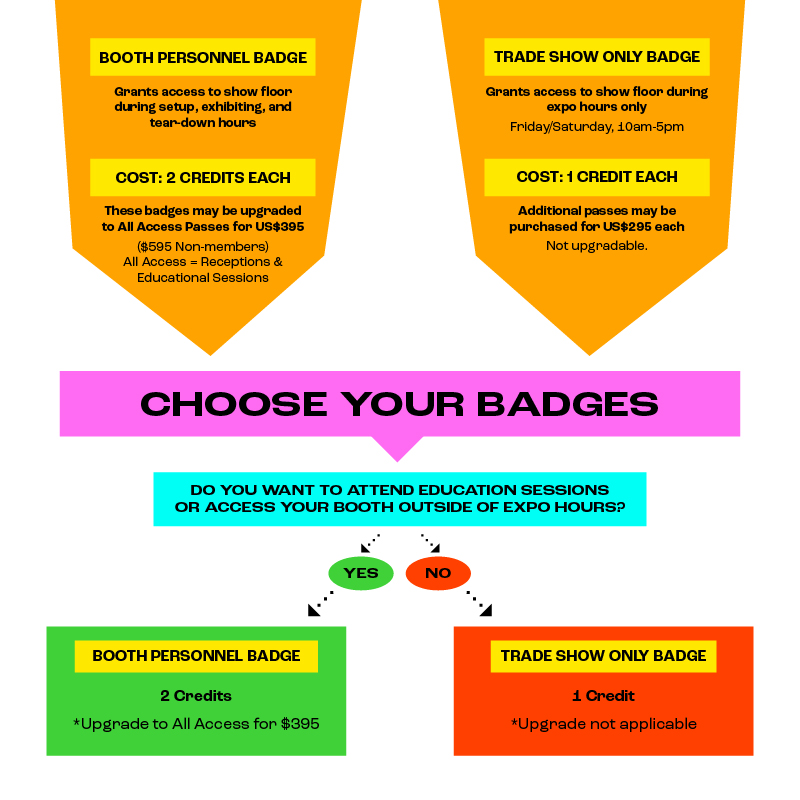 Contact