Sponsored by:


It makes sense why we use so much plastic in the food supply chain: It's versatile, predictable, and sterile. But with so much of it ending up in landfills, does the positive outweigh the negative?
In this episode, I'm joined by William Orts, Research Leader at USDA-ARS, to talk about solutions to the plastic problem, differences between degradability, and plans for the future.
Listen as we discuss:
3 most important mandates & plastic's role in the food supply chain
The difference between compostable, degradable, and recyclable
The most important breakthroughs that need to take place
Patenting technology & strategizing for the year
More information about guest William Orts:
USDA-ARS Company Website: https://www.ars.usda.gov/
To hear all the freshest interviews in the produce industry, subscribe to Fresh Takes on Tech on Apple, Spotify, or your preferred podcast platform.
Listening on a desktop & can't see the links? Just search for Fresh Takes on Tech in your favorite podcast player.
Speakers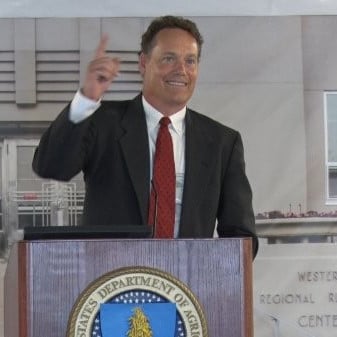 Vonnie Estes, IFPA
Hello and welcome back to fresh takes on tech. We're continuing our season on sustainability and today we are going to talk to Bill or it's about bio products and reducing plastics in the food supply chain. Bill is Research Leader at the USDA Agricultural Research Service in Albany, California. As Research Leader in the bio products Research Unit, Bill leads a 41-member team 13 PhDs of chemists, molecular biologists, plant physiologist, biologists and engineers working on a dizzying array of products and technologies. Hi, Bill, and welcome to the show.
Bill Orts, USDA-ARS
Thank you glad to be here,
Vonnie Estes, IFPA
Please tell us a little bit more about your work and the mandate that you have.
Bill Orts, USDA-ARS
So, we have three mandates, the primary mandate is to add as much value to agricultural co products as possible. And that has essentially three titles. One is zero waste initiative. So, any biomass source that isn't utilized optimally, we try to add value to the second one is our bio products initiative work with companies. And it's really close to the zero-waste initiative, but in adding value, end up with CO products that people sell. So, it's not just maybe optimizing what you would do with the almond hole, but turning it into a plastic or a composite or something. And then the third initiative we have is strategic crops. So, crops that haven't necessarily taken off that we want to develop like a domestic rubber supply.
Vonnie Estes, IFPA
Great. So, one of the things that you've been heavily involved in, as you say, is developing prototypes for green packaging and sustainable materials. So, let's start by understanding the role that plastic plays in the food supply chain. Can you explain why we use so much
Bill Orts, USDA-ARS
We use a lot of plastic because plastic works. I know that it that's not necessarily intuitive, but it's a remarkable material developed over the last 75 years. And you get clear films, you get solid trays, you use a minimal amount of material to get produce, get your stuff to market, and you get it. They're sterile, so clean and predictable. So, we use a lot of plastic because it has a lot of uses. It's very versatile. And its good material that essentially works. It does leave an environmental footprint. But all things do.
Vonnie Estes, IFPA
So, what are some of the negatives of using so much plastics in the chain? So, it's just the what's the environmental, the negative environmental footprint look like?
Bill Orts, USDA-ARS
Well, the first questionable impact is the source of plastics is from the petroleum fossil fuel industry. So that's generally the feedstock. And so, it's not necessarily sustainable. And you know, we produce oil and oil, a lot of that goes into plastics. The second one is the end of life. What are you doing with the plastic after it's done? So, for many times, we use, say plastics for single use, you might have a, you know, to our relationship with this plastic, I mean, for a cup, it could be a 20 minute relationship, and then it's going to go to a landfill and may never degrade. And when it does degrade, it degrades slowly that degrades into methane and greenhouse gases.
Vonnie Estes, IFPA
And has this become worse during COVID.
Bill Orts, USDA-ARS
There's a lot more takeout food delivery items, single use items. So, it hasn't necessarily gotten better during COVID. And then. Yeah, I mean, people are shopping for individual portions. So just I don't know if it's COVID. But more generically, we buy smaller items, and single packaging. And so often, you have a lot more packaging relative to the amount of food you bought. Mm hmm.
Vonnie Estes, IFPA
So, there's a number of ways to attack using less plastics in the food chain, you've your work over the decades has had a huge impact. Let's talk about some of the areas you've worked in and some specific examples of that.
Bill Orts, USDA-ARS
So really early on, we didn't necessarily want to make the decision whether you should go for biodegradable plastics when they're single use or really focused on recycling. And we've done both. So, you know, I know it's not necessarily the role of USDA to help companies recycle plastics, but we've gotten heavily involved in what's the best use of recycled plastics. So that's what we do with 1/3 You know, part of our initiative. The part that's a little more noticeable is the company the companies we've worked with to make degradable plastics and composites. So, these are the source of the carbons for The plastic are from the ag industry usually. So, things like poly lactic acid you get from Cargill, down natureWorks whatever the companies were now it's called Ingeo. So, you take sugars converted to lactic acid make poly lactic acid. So, it's just a sustainable source of a plastic. And then you make it into a material we can use as packaging, or as a copper Single Use Item. Those plastics are by definition degradable as well. So, you have plastics that are sustainable. So, there's different words here, sustainable source, and then degradable and then compostable. Not necessarily one in the same, you can have synthetic plastics from petroleum feedstocks, which aren't necessarily as sustainable upfront, but they can be biodegradable, compostable at the end of life. So, we've worked on all areas with different companies. And so, you know, the devils in the details on this one, we find that single use items are best if you know their end of life. So, a lot of times they're best at a restaurant or a shop where you know what you're going to do with the material at the end of its life. So, a good example is that a cafeteria, if everything in that cafeteria is compostable, and you get it into a compost bin, you have a really good idea of what's going to happen at the end of life.
Vonnie Estes, IFPA
So, on the compostable, what do you what do you do with that? I mean, I'm always confused just in my own house. And so that goes into my compost bin, and then that will break down and compost is that that's what happens with that.
Bill Orts, USDA-ARS
So, if it's a kind of a clamshell or a plate, and you know, it's compostable, and it's been well labeled, there's less confusion. The confusion arises when a plastic fork or knife or even a clear cup is not well labeled. And you don't know what to do with that. So, should that go in the recycle bin? Or should it go in the compost bin? And if you've been well educated, you read the bottom and you say, okay, if this is made of PLA, it goes into the compost bin, but it is a source of confusion. So, it's not you've asked the underbelly of a question that the nasty question and all this, how do we educate consumers to know when they have a compostable and when they don't?
Vonnie Estes, IFPA
And is there an answer to that? We do.
Bill Orts, USDA-ARS
Again, the answer is like on things like clam shells or even certain trays and you know, you know, there's sometimes a little earthier looking or Browner and you have big label on the bottom. This is compostable, people are getting used to it. Again, if you're at a cafeteria where everything in you knows everything going in and going out is compostable, we get used to it. But you know, if a fork is not labeled really big and big letters compostable on somewhere on it, what do you do with it? You don't necessarily know.
Vonnie Estes, IFPA
And then what does it break down to? I mean, the actual like composition chemical composition, like yeah, just disappear or what's left of it.
Bill Orts, USDA-ARS
Alright, so to call it compostable it has to meet an ASTM standard. And we've been involved in developing those standards like what is called ASTM D 6400. Was one of the first ones what is a degradable compostable plastic, what is its definition? It has to break down at a certain time at a certain temperature to basically co2 co you know, just basic carbon monoxide, carbon dioxide hydrogens, basic materials, so it can't leave behind any remnants of the original polymer.
Vonnie Estes, IFPA
Hmm, okay. And then degradable explain that and how that's different. Yeah, so
Bill Orts, USDA-ARS
Well. So as compostable is a tighter definition if you have a compostable standard and you go to an industrial compost facility, degradable starts to use words like home degradable when ASTM is trying to put a standard on that but then consumers want to just put it out in their backyard compost bin and hope it degrades. And so, degradable has fuzzier definition sometimes and biodegradable right? It means something to different people. So, one of one of the standards we you know, we kind of cringe at is home compostable because everybody's home is different. compostable industrial compostable, okay, we say okay, there's a standard there's a standard temperature. So degradable is in the eyes of the beholder sometimes, but so compostable degradable, we like to think of ASTM standards, what is biodegradable at a certain temperature going to break down two elements we can predict, you know, small molecules
Vonnie Estes, IFPA
And then recyclable. Let's talk a little bit about that. So, what is what work? Have you done there? And what are the different ways that people are recycling these types of materials?
Bill Orts, USDA-ARS
Yeah, so for the past 20 years, we've been working with landfills and trying to find ways. So, we don't recycle as well, as we think we do. You know, it's really only 25 to 40% recycling of plastics, it can be done in larger places, like arenas and cafeterias, you can get it all or did it get none. But we've been working with landfills, to where we tried to help them screen out bottles and cans, and plastics. That didn't make it into your blue bit. Alright, so we've worked with several Recology in San Francisco, and Salinas Valley, Solid Waste Management Board, and work with them to screen out any plastic that didn't get caught in your red in your blue bin. And then the second thing is about four or five years ago, we used to be able to send all our plastics from those recycle bins to Asia, and most of the Asian market stopped taking our recycled plastics. So, we've been working, we have a pretty significant grant with CalRecycle, to find new uses for that recycle plastic that used to go to Asia, but we want to use in this country. So you can imagine it's, you know, every different color, clear and green, and all these different, you know, plastic bottles that you see on lids have bottles, they can be blue milk, milk carton reds, we put them together, and we try to put out plastics that have as close to the original properties of the plastics as possible. So, we got a pretty significant grant with CalRecycle. That's California's Waste Management Board, if you will, to optimize the reuse of plastics, take that recycle plastic that you get, and, and so they have these material recycling facilities, you pull out these plastic bottles and cans, plastic bottles and wraps. And you put them together and you blend them into a plastic that can be used, say for lumber, or reused in carpeting, textiles and such. I'll add one more thing we're part of the Zero Waste initiative, we have mostly you've got to get it to a uniform color. Right. One way to get it to uniform color is to add carbon black, Carbon Black is the black, you know powder that makes your tires black. Well, we've discovered that one of the best sources of natural Carbon Black is to take things like almond shells, and walnut shells, make charcoal out of it, grind it up and use that as a substitute for carbon black. Hmm. And the advantage of that is it didn't just show up as an inert filler, it added heat stability to that recycled plastic. So, you take recycled plastic, that could be a really weird color, probably blobby Gray, you add carbon black, which is basically charcoal you've made from almond shells, grind it up as a carbon black substitute, and you end up with a plastic that is more stable than when you started. And so, as you recycle plastic, you don't really recycle usually down cycle, it doesn't maintain the same molecular weight doesn't maintain the same heat stability. And so, in down cycling, you have to add more to make it more heat stable. If you can increase the heat stability, you can use more recycle in your mix, or write or make your pieces thinner. So, it's things we've been working on for the past 15 years, adding heat stability to recycle plastic, adding heat stability to sustainable plastics as well that biodegradable, need to have an array of properties. Vonnie Estes, IPFA So, what new technology or what new breakthroughs need to happen to make that work better or to just in kind of the technical side of it?
Bill Orts, USDA-ARS
Okay, it's always about price point. The, you're working with the petroleum industry in the development of plastics is a very mature industry. You know, trillions of dollars have been spent on the supply chain with petroleum. And they're very good at making plastics very efficiently at large scale. And then we try to compete when our biomass sources aren't necessarily at the same scale as the petroleum market. And so are technologies have trouble matching the price point of polypropylene that came in maybe from wherever the Middle East or whatever, polypropylene at 65 cents a pound, and you're trying to do it from, you know, a seasonal supply of a crop or from sugar even, which goes up and down with food supply demands, right. So, you know, some of these sustainable plastics we talked about are fermented from sugars and or you're going to use a say iLASIK biomass source that is seasonal and is not necessarily coming in at the scale that the petroleum industry deals with. And so, they have a 75 year petroleum industry, I'm making plastic, they make good products, they have a 75 year Headstart, and they have the advantage of scale and consistency over the last 75 years, so we try to match their price points, with products that don't have the supply chain set up at that level. That's the biggest, I think the biggest because we can match the properties in general, but we don't necessarily match the properties at the same price point yet. Vonnie Estes, IPFA Hmm. And so, you were talking about working on some alternative crops, there are those crops that you would use as feedstock. And how's that work going?
Bill Orts, USDA-ARS
Yeah, so one crop that we're kind of proud of is making a domestic rubber supply using a crop called wildly, it's a desert shrub. And instead of, you know, tapping a rubber tree in the tropics, which is very labor intensive, and then the rubber comes, you know, 20 30,000 miles to our port, we would grow a desert shrub. And instead of tapping, it's, you know, got a certain percentage of rubber five 7%, say, and you would grind up the shrub, get your rubber supply, and then regrow that bush. So, it's, it's so it can be highly mechanized, it's kind of like mowing the grass and getting a rubber supply. We work with the big tire companies, and you can now buy Cooper tire, you can buy a domestically produced tire made from widely. So, it's past the state wall, it's out there. So is it Vonnie Estes, IPFA Price effective? I mean, can you, do it? Okay.
Bill Orts, USDA-ARS
Very small farms, you know, but it is a desert Trump. But you're going to change the labor paradigm. And you're going to have a domestic source of rubber. And you can't make a jet tire without natural rubber. We know how to make synthetic rubber. But it's not exactly the same. It doesn't crosslink the same. There's something about it. And so, we're trying to help. Now, when you produce that rubber membrane, I just said it's about five to 7% maybe rubber in there, what do you do with the other 90x percent. And what you do with it, is you can make fibers from it, or you can ferment it into things like biofuels or plastics.
Vonnie Estes, IFPA
And thinking about the produce industry, again, and some of the plastic use there. I know you've done some interesting work on just using helping with food waste, reducing food waste, the work you did with apple slices, and then I know you've also looked at some edible films. And so, what are some other things that we can do to just use less plastic and reduce food waste in the in this food chain?
Bill Orts, USDA-ARS
So recently, we have noticed that there's a regulation in Europe so let me mention price or produce lookup stickers depending on where you look. They're either called PL use price lookup stickers, are those ubiquitous little stickers that you see on produce, you know, as you as you walk through your produce aisle, they save a lot of plastic. Yeah. If because otherwise, your apples would be individually wrapped or you know, wrapped in small packages, you would use some kind of probably plastic tray or cardboard tray with some clear plastic over the top. But if by using those little stickers, you have the freedom to pick your own Apple pick your own produce. And it really says times at checkout. So, each one has a sticker, and then the cashier can quickly ring it up. And you know you can control your inventory. So those little stickers save a lot of plastic. There's a rule that the French government is basically said that by the end of the year, all those PLU stickers have to be home compostable, so it's that home degradable home compostable idea, so it has to meet a standard for breaking down. So, we see as a challenge and we are working with the leaders of the industry. To address that question. We need to be able to make a sticker with our partners. I mean, we provide ideas and some technology actually we live vicariously through industry partners that actually make it happen. But we're working with the leaders. You know, the leader in the PLU market is Sinclair is one leader that we're working with. They provide the PLU stickers that is widely seen. We're trying to get a sticker that is home compostable with a food safe adhesive that would also come post and meet the European standards. It's a charge. It's a big charge. It's a fun challenge. Again, we think and no we can do it. It's about price points. We're used to plastic sheets that are fairly inexpensive to produce and have been optimized for the for the past 40 years. So, they take on ink. Now remember, you have to be able to print on these really well and you don't want the ink to run, and you don't want the adhesive to come off in a freezer and things like that, you know, hot and cold cycles. So, it's, it's challenging, it's fun, you know, keeping coming to work every day.
Vonnie Estes, IFPA
So, you have adhesive, the plant the material itself, and ink and all three of those have to be home compostable.
Bill Orts, USDA-ARS
So, what food safe so what? Plastic right? Yes, it's another, you know, some people treat them like, you know, they're those little ubiquitous things and they can be irritating to some they save a lot of supply chain issues and a lot of plastic wrap.
Vonnie Estes, IFPA
So where are you in the process of finding something that works there?
Bill Orts, USDA-ARS
We are, well, again, working with Sinclair and other industry leaders, we are testing we have the equipment. So, for the past 20 years, we helped establish some of the ASTM standards for degree edibles. So, we work with other companies in plastics. There was a big wave about five years ago not only to be compostable, but to be ocean safe and ocean compostable. So, we work with companies to make sure their ingredients when they land in the waste in the water system. Are Water compostable. So now that sounds almost trivial, but it's not so when you send to a compost facility, there's a lot of microbes available nitrogen sources, when you get to the ocean, you might not have the same nitrogen and mineral composition that you'd have in the soil. So, plastic that compost at a compost facility or landfill, plastic might not break down in the ocean. So where are we audit? We're testing materials on those PLU stickers that are home compostable, and food safe and eventually going to be ocean compostable, fully degradable and meet the standard that the European market is asking for.
Vonnie Estes, IFPA
Do you think the US is going to follow with that requirement?
Bill Orts, USDA-ARS
Well, I'll back up a little. I think, often in the EU, one country is like the canary in the coal mine. And they see you know, they'll come up with a legislation and they see if others if it makes sense in one country, sometimes it's an EU standard. Now that would affect a lot of export markets for the US. So, we'll start there. So even though it starts with France, and maybe a limited number of produce items, France may be a warning to get ahead of this thing. And it might be EU wide, within five years, the US tends to be a little more reluctant to put in federal regulations on these things, to mandate it as quickly. So, I don't think it's an immediate concern in the US. But if it's successful, it could be a concern soon enough.
Vonnie Estes, IFPA
But if we're exporting, say, we're exporting apples, then we'd have to meet that mandate, when we are exporting from the US to France,
Bill Orts, USDA-ARS
We'd have to meet the mandate to export. And then once you do something like that, it's a lot easier to do it to your entire supply.
Vonnie Estes, IFPA
Exactly. Yeah. So that might actually be market driven instead of mandate driven in the US.
Bill Orts, USDA-ARS
Right. And our understanding worked with Sinclair the technology exists to do it. It's price points and tolerance to price points. And then just meeting all the tight specs that we've come to expect from the excellence that we've had from old plastic products. I mean, this the existing technology works, you can print on it, you know, you can find adhesives. So, we kind of get used to a standard. If you notice, we talked about compostable like plates and clam shells. Sometimes the companies purposely make them look rougher, so that you know they're compostable. Maybe it is market driven. But if it's too slick, if it looks too much like polystyrene like styrene, a styrene. tray, then you'll put it in with the styrene trays. So you purposely make it a little coarser, a different looking so you know to put it in your compost bin.
Vonnie Estes, IFPA
That makes sense. Yeah. So switching a little bit to your lab and kind of how you're structured, as you're talking about with Sinclair and you've done a ton of partnerships and you've helped a lot of companies and often expanded on your mandate. So tell us how you work with industry and kind of how you know I'm curious In a lot of the work that you do, do you patent it? And then is there like a license? Or do you just do this for the good of the world and give your technology away? Or like how does that all work? How do you get engaged with industry?
Bill Orts, USDA-ARS
Right? All of the above, so I'm giving it alright. I'll brag about the best example we've ever had and then act like it happens every day. Right. So the apple dippers at McDonald's. All right, which is a partnership we have with Monterey sizer. Dominic Wong in our group is an entomologist. And back about 20 years ago, he was working on oxidation reactions. And he just knew as a sidebar, that if he could stop those reactions, he could probably stop apples from turning brown, right any, like, okay, it's a pH trick. So he was it, it was basically a mixture of vitamin C and choc dusts, ascorbic acid and calcium key laters. So certain healthy minerals. And what he discovered was, you could add in the lab at the glassware level, you could just mix the two together, dip your apples in there, and they won't turn brown for 30 days or so. Sometimes. 40. Okay, really good news. We were about to patent that ourselves. And we went out and, and started to talk at, you know, food technology conferences. And, and so we got Monterey sizer, a food additive company, they sent their people to our pilot plant for most of the summer. And then, so they put in certain resources, they also put in people in time, and that was a really relationship where we worked in a trust with each other. And then we co wrote the patent with them. And they have exclusive use to it for the last 20 years and then European rights and pay us some licensing royalties back to us to the USDA. Our scientists don't necessarily benefit directly but the USDA does win situation, Montrose Pfizer is able to sell an additive that allows McDonald's and subway to sell 10s of millions of pounds of apples. They're in Happy Meals instead of French fries. Sometimes they made the school lunch program. USDA gets some royalties back. Right. Alright, so we have healthier kids. And Mom, try Caesar again, has benefited. So that's when it works well. Other ways as companies come to us with issues and problems and questions. You know, Clorox came to us and said, we're interested in making the first compostable wipe, what do we do? We said, okay, well, we have machines that can test it, we have small extruders, we can put out films. And we can, you know, test the ASTM standards. You guys know the market. But we have some of the tools. And, and the other thing is we have the patience to do research for multiple quarters. So, what they did is paid me paid us to hire a postdoc and work on some of their pet issues for the next, you know, so many years. Oh, wow. Yeah. So, a lot of different ways. You come to see us mean, I like to say that if somebody I try to tell our team, if somebody from the ag community comes and asked you a question about something that's bothering them, the answer is we do that research, what is it? Like? How can we help you if it's important to you? It should be or could be important to us. So let us know more.
Vonnie Estes, IFPA
So, Are most of your projects outside funded? And how do you sit down, you know, every year every two years and have a big strategic plan and figure out what projects you're going to work on? Or like how does, how do you decide which directions to go.
Bill Orts, USDA-ARS
So, we are mostly based funded, we're on a congressional mandate. And so, we sit down for a really big soul searching every five years. And then we write a big proposal, what we're going to do with the next five years, and then it goes through peer review, kind of, you know, national science foundation level really high ended, you know, send a lot of other PhD level scientists to make sure it makes sense, and they can grade it. And then, you know, we edit it and fix it. And that gives us a five-year cycle. So, the Zero Waste initiative, the byproducts initiative in this strategic crops about two years ago, went through this, you know, thought process and got approved, and that basically funds 80% of our work. And then we usually encourage folks to get about 20% Soft funding through grants and partnerships with companies. So, we do a yearly soul searching but then we have the five year cycle, which gives us five year mandate.
Vonnie Estes, IFPA
I know through other conversations we've had you have touched an awful lot of the startup companies, especially the ones here in the Bay Area. And so how do you work with startups, and how has that kind of happened that you do some incubation work.
Bill Orts, USDA-ARS
Um, so anybody can approach us and say they'd like to work with us. Some of the companies that approached us happened to be in the same mission area, that we have a five-year cycle, you know, we're mandated to be in this area. Now, rather than reinvent the wheel, we ask them if they want to partner. And we start to share resources. So, some of those companies recognize that since we're already based funded, sharing resources can turn out to be a pretty good idea. So, I can name names, one of the companies we're proud to work with is mango materials, which basically takes greenhouse gases and makes biodegradable plastics out of it exactly in our wheelhouse. So, we'll do what we can to help them, including, you know, so they pay a little in, but then we help them, we leverage our resources. So, they end up pretty well moving in and having folks in our building, using our equipment, leveraging this space that we already have to do this mission. And we both benefit. So, you multiply that out by any usually we have six eight companies as partners with our group at any given time. And sometimes it's small companies, and sometimes it's much bigger companies.
Vonnie Estes, IFPA
That's very cool. Yeah, it's such a, with a lot of startups, you see people just building the same capabilities over and over and over. And it just doesn't make sense. And so, if there's some way to kind of leverage knowledge and capabilities and stemware, yeah, it just makes sense to do that.
Bill Orts, USDA-ARS
Yeah, I mean, when mango was reading some of the early mangoes a standalone now, but early on, they could argue that they had access to multiple, you know, 60-liter fermenters, because they had access to our building, and we had multiple 60 liter fermenters. Each one of those fermenters could be nearly $100,000. To buy. So didn't necessarily have $600,000 in fermenters. But they had access to that number of fermenters. Right. And they got in, so it was a good leverage. Yeah. It was fun.
Vonnie Estes, IFPA
So last question, kind of summary question for you. What are three ways that the produce industry can be more sustainable around the use of plastics and decreasing food waste?
Bill Orts, USDA-ARS
Wow, yeah, that's a. So, I'll go back to the, the PLU stickers work, right. So, make sure we maintain those. If we have if we can meet the mandate, save the French government, others and then you end up you know, individually wrapping fruits that we crazy. So, I like I like that model. Let's start there. It the closer we can get to the source of supply, in the supply chain, even in the packaging, the better we are, right. So, you know, the old adage, we used to be asked Do you want paper plastic? And people would automatically think that maybe paper is going to be more sustainable? And that was like to anyone who knows the system a little bit? That's a really nasty question, which is more sustainable? How? And the answer is like, how close are you to plastic supply? How far did your paper have to come? You know, did they use a lot of water making paper? Do they use a lot of water and making plastics? And so, part of the supply chain that we appreciate is getting closer to your sources cut down on carbon miles for anything. So, don't drive things as much as far and get more locally source sources of plastics and packaging material, right? Just get it closer. Get closer to the point sources. It's interesting companies like Walmart had mandates where they cut back on the number of boxes used. Kind of that was good news, right? Sometimes there's a mix though of a of a tray with a shrink wrap plastic over the top, say of you know, I don't know bottles of bleach. Those plastics though, instead of having to be you know, from the petroleum industry could be something from a sustainable source, and then you either you composted or recycling right there. Alright, so, I don't know if that answers your question fully. But it's, it's a complex issue. We have our work I've dedicated my whole career to try to reduce and reuse plastics, optimize their carbons. And then the final thing is end of life. Really think about what you're going to do with the plastic After you've used it, especially. So, if, if you can make packages that are compostable, educate the consumers what to do with the end at the end of life and tell them does it go in the blue bin? Or does it go in your, you know, your compost bin? And if it goes the compost bin, you know, what are the details where the tells on that, and where does it go? So, education and locally sourced is what we're pushing for.
Vonnie Estes, IFPA
Right? Yeah, I think it's, it's like you said in the beginning that the reason we use so much plastic is because it works so well. And so, when you have things like really wanting to cut down on food loss and food waste, that's really competing, you know, well, if you if you wrapped everything in plastic, then you'd have less food waste, but we don't want that. So, we have all these competing, you know, things that we're trying to do and I think looking for different ways to put you know, different things, containers and things to put food in because you know, we have to do that makes a lot of sense. And bio products are a great way to go. Well, thank you so much for your time and this insight, and I look forward to coming up and seeing your lab. I can't believe I've never been there, given how long I've been in the air. But I will work on that. And thanks again, Bill.  
Bill Orts, USDA-ARS
Welcome anytime. Thank you