When it comes to challenging hunger and food waste, Vesta Foodservice and Chefs to End Hunger are broadening the lens on the story. Their mission to facilitate the redistribution of surplus prepared food to local charitable organizations that serve meals to their communities in need is only part of their story. Through their cross-industry collaborations with partners, they shine the light on initiatives that make a substantive difference.
Founded as LA Specialty in 1985, Vesta Foodservice is a foodservice distributor that delivers over 7,000 perishable food items to western and southwestern regions of the U.S. By 1999, their distribution coverage included San Diego, Los Angeles, San Francisco, and Las Vegas.
In 2001, as customers opened restaurants in other cities, the company expanded distribution to Phoenix and continue to cover most of California and large areas of Nevada and Arizona. Their high touch service, high quality, and on-time delivery approach helped them establish and grow their strong customer base.
In 2012, Vesta Foodservice (LA Specialty at the time) created Chefs to End Hunger, a food recovery initiative that joins foodservice providers with hunger-fighting nonprofits in their communities.
In 2018, Chefs to End hunger was recognized as a "best partner" in food recovery initiatives in LA County by the LA Food Policy Council.
The challenge:
Food insecurity and beyond
In 2020, approximately 38 million people in the United States struggled against food insecurity. This statistic is devastating when compared with the 1.6 billion tons of food (worth 1.2 trillion dollars) that is lost or wasted globally each year, the United States being the highest contributor at 30 to 40 percent or 80 billion pounds (equating to 219 pounds per person).
According to Chefs to End Hunger Program Manager Brette Waters, it has never been about a shortage of food—as a nation, the United States overproduces on an annual basis—it is about what happens to the food once it is produced.
After U.S. consumer home waste, the hospitality industry (restaurants, grocery stores and food service companies) leads as the top contributor of all food waste at 40% (50 billion pounds) followed distantly by farms at 16% (20 billion pounds) and manufacturers at 2% (10 billion pounds). These waste streams mean that perfectly good food is being diverted away from people in need and sent to landfills.
When left to rot in the landfill, wasted food breaks down, releasing methane gas. This accounts for 8 percent of all global greenhouse gas emissions and is the single largest contributor to landfill mass and the third largest source of methane in the U.S. Methane gas is 28 to 36 times more potent than the carbon created by passenger vehicles. The amount of food wasted each year in the U.S. generates greenhouse emissions equivalent to 37 million cars. The negative impact this has on the long-term health of the planet is undeniable.
When factoring in the resources that go into producing and getting the food from the field to the table (i.e., land, water, fertilizer, transportation, storage, etc.), that adds up to a lot of wasted resources. The implications are not only environmental, but economic as well, resulting in a monetary loss of approximately 218 billion dollars each year.
What can be done about it? According to Vesta Foodservices and Chefs to End Hunger, a lot.
The solution:
Using new and existing resources to expand initiative reach
As a community-minded company, Vesta Foodservice seized the opportunity to fill an untapped niche. They already had an existing donation program with regional nonprofit organizations (e.g., Midnight Mission, Hope 4 the Heart, who would take the overstock inventory or product that did not sell on a regular basis), but Vesta wanted to do more. Out of that desire, Chefs to End Hunger was born.
Because the infrastructure was already in place (trucks, software, traceability, etc.), the Chefs to End Hunger program was a natural extension of their current business model.
Vesta Director of Marketing & Business Development Jin Ju Wilder sums it up like this: "Our food service customers have access to prepared food, think events taking place at hotels, convention centers, entertainment centers. We order so many meals and not all of the meals are eaten. All that food would go to the landfill. Through Chefs to End Hunger, that food goes to what we call the Chefs to End Hunger kit. [The filled kits] get redistributed to our nonprofit partners, who then either repurpose and redistribute it themselves, or pass them on to feeding agencies so that the food goes to food insecure populations."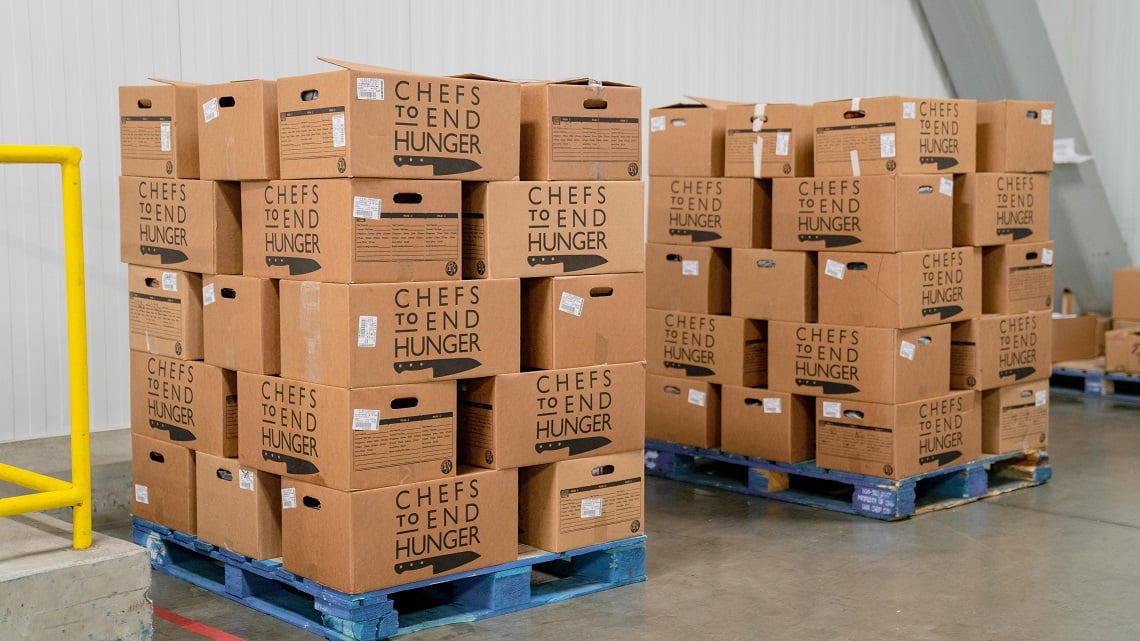 When developing the model for the program, there was much to consider (i.e., materials, logistics, liabilities, education, etc.). To gain greater perspective, they met with their existing nonprofit partners to discuss their business needs and, with careful planning, created a model that exacted maximum benefit for all involved.
A big step in the growth of Chefs to End Hunger was creating partnerships with large-scale foodservice operators (where most of the surplus comes from), who were a perfect fit for the program, given their regular production of food and strict safety standards—in addition to their own sustainability goals and initiatives.
They educated and trained them on program safety protocols and addressed liability concerns—especially with partners who were initially reluctant to participate. These relationships were instrumental and provided the perfect platform as a starting point to see how the program would work.
The Chefs to End Hunger program works within the existing ground structure and no additional resources are needed to complete the program and, in turn, does not increase their carbon footprint. Because Vesta has hundreds of trucks routed daily in and out of over 2,000 food service operators, it operates on a simple backhaul model. Trucks leave the Vesta warehouses filled with customer orders and, instead of returning to the warehouse empty, they backhaul surplus product from the foodservice operators.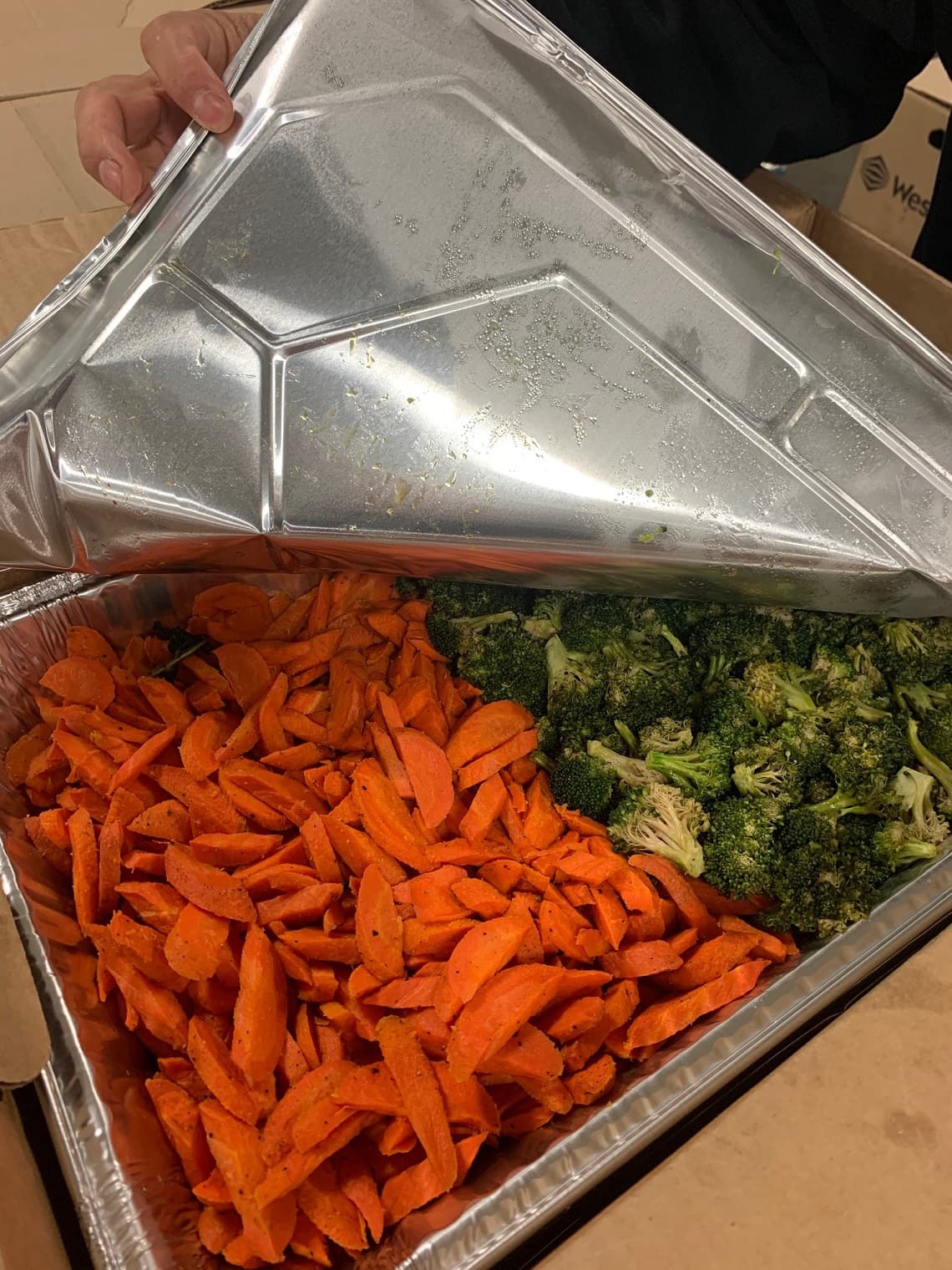 Vesta supplies the Chefs to End Hunger Kits, which are comprised of basic boxes and foil sheet pans and lids. The pans are filled, covered and labeled, following the strict safety protocols. The filled containers are kept in refrigeration at the operator's kitchen, then packed in the boxes provided. The packed boxes, containing three filled sheet pans each, are picked up from the customer daily upon regularly scheduled product delivery, without putting additional trucks on the road. From there, it is transported to a refrigerated warehouse, where it is aggregated with other surplus and sent outbound to agency partners who either repurpose and redistribute the food or pass it on to feeding agencies to disseminate to food insecure populations.
Vesta Foodservice and Chefs to End Hunger not only facilitate getting the food to last-mile organizations who are interfacing with the communities directly, but they make it as easy as possible for the food service operators to participate. Vesta facilitates all training and outreach and they work closely with their community partners to inform them on exactly what surplus can be received to serve the sensitive populations.
2019 was a big year for Chefs to End Hunger. They recovered and diverted approximately four and a quarter million pounds of surplus food to regional agency partners. At the onset of COVID in 2020, the hospitality industry was hit hard—kitchens closed, supply chains were disrupted—resulting in the loss of vast amounts of food. To mitigate that loss, Chefs to End Hunger quickly mobilized. They were able recover over one-million pounds of perishables in six weeks from kitchens alone that were liquidating their inventory.
They also expanded their model to recover whole-product surplus from Vesta's regional warehouses as well as from Vesta manufacturer partners, processors, and farm direct partners, recovering and diverting shelf-stable product, frozen product, farm direct surplus, etc. They were able to leverage their partnerships and simultaneously contribute to organizations who were unable to get surplus when the supply chain contracted.
With an ever-watchful eye on the market and community need, what began as a Vesta-supported program has evolved into a separate, self-supported nonprofit organization due, in large part, to the passion of Waters and Wilder.
When Chefs to End Hunger was founded, the focus was on food insecurity in the communities and connecting chefs, whose passion it is to feed people, with people who needed to be fed. Since then, the program has expanded, providing volunteer opportunities for foodservice operators and community members to see where the food is going and the people that it is feeding, telling the whole story and bringing that story full circle.
The focus on food waste has grown the initiative of food recovery into much more than the focus on food insecurity alone, bringing influential stakeholders to the table who were not necessarily there before: tech, big business academia, legislators, et al. And opportunities continue to present themselves.
The Takeaway:
Making a difference
"When you talk about incentivizing organic waste diversion, where it is going to hit your wallet is a big motivator," says Wilder.
Chefs to End Hunger utilizes a state-of-the-art tracking system to account for all inbound and outbound donations and provides companies with annual metrics, which are impactful on multiple levels, especially to larger corporations that create the most excess food. Using this data, foodservice operators can tailor their BEOs because they are then able to compare what they have over produced to their overall food loss relevant to their production.
The data also includes surplus prepared foods the company has donated throughout the year, which can be recorded in the company's corporate book as part of their social responsibility program, and the donations can be acknowledged and serve as a write-off.
Another important incentive is that, beginning in 2022, California will implement a tiered program that holds companies accountable for what they do with their surplus food. Different municipalities will have their own benchmarks and initiatives for participating in food recovery. Failure to participate in the food recovery initiative could result in high fees for the transport of all organic waste diverted to landfills.
The first phase of implementation will affect the largest operators in the supply chain: tier-one generators, supermarkets, wholesalers, etc. The next phase will affect tier-two generators, smaller foodservice operators, restaurants and the like. Inevitable is the fact that, eventually, it will financially affect everyone at some point.
It is not a stretch to say that this type of tiered program will likely expand throughout the U.S. as attention to social responsibility and consumer transparency heightens.
"We have an established solution," Waters asserts. "The challenges are out there—environmentally, socially, economically—you can easily choose to be a part of the solution. The framework is there, it exists."