In just two years, a zero-waste program at Taylor Farms' Gonzales fresh-cut processing facility has generated substantial savings. Since 2017, the facility decreased its landfill contribution by 56 percent by, for example, working with its growers to transition from single-use wax cartons to reusable field bins and totes.
A simple change now allows plastic bags used to protect equipment during plant sanitation to be recycled rather than thrown away. Ongoing employee training is an essential component of the program.
This zero-waste program complements other sustainability efforts at Taylor Farms Gonzales. Harnessing renewable and alternative energy sources has reduced the facility's greenhouse gas emissions by the equivalent of taking 6,510 cars off the road each year, while providing most of the energy it needs.
For example, an energy-producing system including wind turbine, solar and cogeneration generates 4.2 megawatts of electricity - that's 90 percent of what's needed to run the plant.
Taylor Farms Gonzales employs 1,000 people to produce more than 4 million pounds of fresh-cut produce weekly. Taylor Farms consultant Measure to Improve has detailed these initiatives, practices and policies in the full case study.
Taylor Farms Gonzales Facility
Case Study
Facility Background Information:
Company Name: Taylor Farms
Facility Name: Gonzales Facility
Diversion Rate: 96%
Facility Location: Gonzales, CA
Website: https://www.taylorfarms.com/
Contact person (optional): Nicole Flewell
In 2008 Taylor Farms Gonzales joined the Taylor Fresh Foods family of operating companies. After an expansion in 2014, the facility grew to 192,000 sq. ft. and increased production from 1.4 million lbs. to over 4 million lbs. of fresh produce each week, servicing leading retailer partners with organic vegetables, vegetable trays, chef crafted salads, stir fry kits and chopped salad kits.
Taylor Farms Gonzales launched the Zero Waste Program in April 2017. Over the lifetime of the program, the facility decreased landfill contribution by 56%, reducing greenhouse gas emissions by 30,923 MTCO2E, equivalent to taking 6,510 cars off the road annually.
To complete this project, Taylor Farms partnered with Measure to Improve, a consulting organization that specializes in helping growers, shippers, packers and processors measure, improve, and promote their sustainability efforts. Throughout the implementation, Measure to Improve provided onsite support, training, and data tracking.
The program was spearheaded by Taylor Farms' Director of Sustainability Nicole Flewell, the Gonzales Green Team, Measure to Improve, and employees. The team worked together to reduce incoming materials, reuse existing materials when possible and recycle what remained throughout the facility, completing this initiative in 14 months. The Gonzales Green Team, led by Sam Chaidez, Director of Operations, Taylor Farms Gonzales, is comprised of managers from departments across the facility including production, receiving, shipping, facilities, sanitation, purchasing and quality assurance.
A key element of this program focused on working upstream to eliminate wax carton from the supply chain. Led by the raw product procurement team, the group worked with Taylor Farms' growing partners to move to 100% reusable bins and totes, eliminating all single use and wax cartons.
Taylor Farms set this ambitious goal to become zero waste certified to complement the facility's other sustainability initiatives on-site. The Gonzales facility utilizes various renewable and alternative energy resources to help meet Taylor Farms' sustainability goals. The site features a three-part system that includes a wind turbine, solar and cogeneration energy systems. These systems together generate 4.2 MW of energy, a 90% energy offset, which is used to run the plant.
Once Gonzales met the diversion rate goal, the facility was able to move onto additional zero waste practices, such as redesigning purchasing processes, supply chain reviews, and implementing reuse practices. One of the most significant challenges we experienced was dealing with a prevalent, hard to recycle material used within our supply chain, single use wax boxes. The material began to affect our diversion rates, so we invested in over 1,700 reusable totes plus a sanitation system to help eliminate the use of this material. This investment benefited our facility not only in reducing material generation but also in producing financial savings.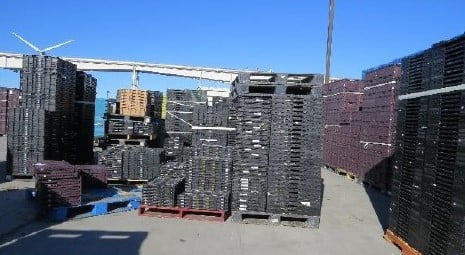 Throughout our Zero Waste journey we have implemented various Zero Waste Initiatives, practices, and policies following the TRUE category system. We have outlined these below:
Redesign
To redesign our container servicing schedule, we used a detailed physical audit in which we were able to calculate the percentage of our landfill stream that was divertible and understand our ability to reduce the number of services per week or reduce container size.
Additionally, we worked with our recycling vendors to agree upon new equipment installments to more efficiently manage our divertible materials as well as make the relationship more beneficial for both the recycler and our company.
Reduce
At Taylor Farms we set a major goal to eliminate wax corrugate from our supply chain. Our first step in doing so, was a significant investment in reusable shipping containers. We provided these shipping containers to our internal grower network for use in shipping raw product to our facility. Once received back, the facility is then responsible for sanitizing the containers and repeating the process, reducing the need for one time use containers such as wax corrugate.
Reuse
To complement our focus on reuse in our supply chain we made an effort to reuse supplies in our offices. Our office staff created an internal office supply reuse program by dedicating a space in our supply closet. Employees are able to contribute to or reuse office supplies that are not at their end of life and can still be used for the same or alternative purpose.
Compost
To best manage source separation of compostables at our facility, we redesigned our collection container system by attributing colors to each material stream. All organic material generated inside the production rooms received its own color and is to be source separated. Through clean source separation our organics vendor is able to haul organics to the correct end destination rather than landfill due to contamination.
Recycle
We have worked hard to improve recyclability of products where we have not yet been able to eliminate single use or move to reusable goods. One example is the plastic bags that are used to cover and protect the equipment during sanitation. Previously, we used tape to secure the bags around the
machinery, but this made the bags not eligible for
recycling. We recently moved to utilizing shrink wrap to secure these covers, allowing us to recycle the bags and shrink wrap. Through this change we are now able to recycle 27,114 liners per year that were previously going to landfill.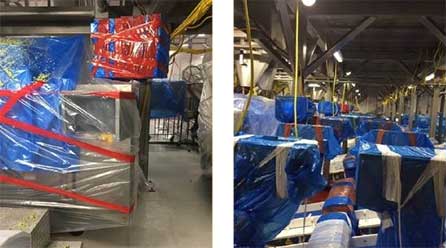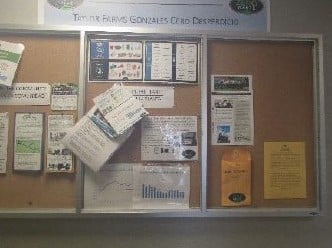 Zero Waste Reporting
To house all the important data in one place and validate our 90% diversion from
landfill, a "Sustainability Dashboard" was created. The dashboard is used to track all related data, which includes, weights of disposal, costs, and avoided costs. Upon launching this program, we met with vendors making it a requirement to report the necessary data. We used this comprehensive dashboard to validate our 90% diversion from landfill.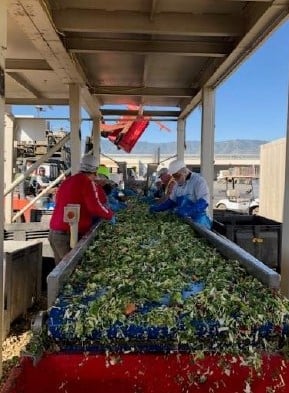 Diversion
The team has set a new goal of 99% diversion. To achieve this we identified through our physical waste audits that we were struggling with material being successfully source separated during our sanitation shift. With the use of scrap material on site,
the team has installed an upcycled MRF to separate that material stream. The MRF has been a great success, with the team diverting over 3,500 lbs of organic material from the landfill each day, equating to more than 1M lbs per year.
Zero Waste Purchasing
In the area of purchasing, we created our own internal Environmentally Preferred Purchasing (EPP) Policy. We made sure to capture all criteria set by the TRUE standard yet keep the policy at a relatively broad level, so it may be applied to all purchasing processes. The policy was initially aimed at office and daily supplies; however, could also be used for packaging purchases.
Leadership
Making sure the program had top level management commitment was a priority from the beginning of the program. To ensure the Zero Waste program had sustainable management oversight and involvement we
created a Green Team. The Green Team is made up of manager's from each department and floor supervisors from each production shift.
Training
The facility undergoes an annual Zero Waste training for all 1,000 employees. The training updates the team on program progress and provides a refresher on what materials belong where for our diversion program. Targeted trainings are conducted throughout the year at our weekly tailgate meetings.
Zero Waste Analysis
We learned the key to conducting the most effective and useful physical audit was collaborating with our haulers and any regional waste authority if available. It was also key to have as many members from the facility participate as possible not only for sorting time but to expose them to an eye opening perspective and take that message and distribute it once back at the facility.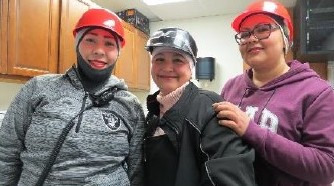 Upstream Management
As we did with our haulers when launching our Zero Waste program, we notified our suppliers of the program, its goals, and then established a communication pathway that we could utilize as the program progressed. We immediately knew we wanted to work toward eliminating wax corrugate use in our supply chain, we worked upstream with growers to transition to RPC's or reusable totes. We have since engaged in reducing plastic liners on many of our incoming raw materials and covers on our field totes, this change has led to a reduction of over 384,679 plastic bags annually.
Hazardous Waste Prevention
To best manage the collection of universal materials we created a centralized collection shed for all identified materials generated on-site. We upcycled chemical barrels, labeled them and utilize them to collect non-empty aerosols, lightbulbs, batteries, etc. Once the shed is at capacity, a member of our facilities team works with various vendors to recycle the material properly.
Closed Loop System
In our EPP policy, we incorporated a mandatory requirement for 30% or higher recycled content within our office paper-
based material purchases. Because we enrolled in the Office Depot Greener Office program during the beginning of the program, we reached out to our account rep and communicated our objective. The rep was able to use our purchase volume and find a supplier willing to meet our price
point and more importantly recycled content requirement.
Innovation
During the process of obtaining top level management commitment, it was agreed that the program needed established goals that were achievable and measurable. With that in mind, we created a Zero Waste SOP with the goal of becoming TRUE certified by a set timeframe and continuing to improve the program by reducing baseline material generation by 1% each year thereafter. This SOP is now being implemented across all Taylor Farms facilities.
Highlights and Fun Facts:
Since January 2017

Recycled more than 5,337 tons of mixed recycling
Diverted more than 23,369 tons of organic bi-product
Trained over 1,000 Taylor Farms employees on Zero Waste practices

The environmental impact of our program is equivalent to:

Reducing GHG emissions by 30,923 MTCO2e
Taking 6,510 passenger vehicles off the road

* Cited from the use of the EPA WARM report *