Though the term "sustainability" hadn't yet entered the common lexicon when Limoneira was formed in 1893, its founders inherently understood the business value of treading lightly on the land, developing the communities in which it operates, and being good stewards of its resources. Today, those tenets continue to serve the company, its shareholders and other stakeholders well.
While "they were focused on the practical economic and social realities of that time, it turned out that our founders were real visionaries and pioneers as it related to value creation," says Limoneira CEO Harold Edwards. "By investing in the land, water, local communities and the environment, we are able to make more long-term value than if we'd focused on the short-term, immediate gain."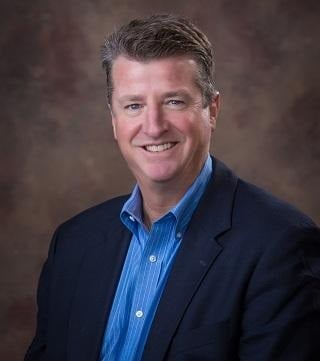 Limoneira is on target to be 100 percent energy efficient, even selling clean energy back to the electricity supply grid, in the near future. At the same time, the company has found that its commitment to sustainability has helped generate new business and cement its relationships with customers and consumers.
Headquartered in Santa Paula, California, Limoneira grows and harvests lemons, oranges, other citrus and avocados from 14,500 acres on ranches in California, Arizona and Chile. Strategic alliances also supply fruit from Argentina, Mexico and South Africa. The publicly-held company is a diversified packing, sales and marketing company with related agribusiness activities and real estate development operations. The company reported 2019 revenues of $170 million, and EBITDA of $1.5-2.0 million.
The Opportunity: Generate enough clean electricity to work off the grid

Limoneira is no stranger to harnessing solar power to reduce the cost of the electricity needed to power its operations. The company made its first large-scale investment of $8 million in solar in 2006 and 2007. Limoneira's solar "orchard" became the world's first solar array in the world to be designated a LEED Gold Certified green building.
"The technology was very inefficient at the time," notes Edwards. "It took five acres of land and 6,500 solar panels to generate one megawatt of energy."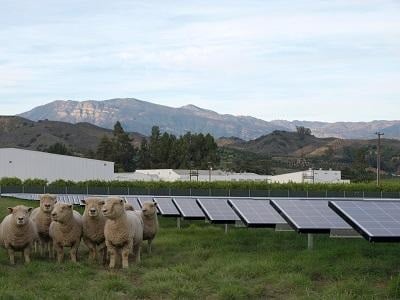 That said, even then its investment proved financially viable, in large part because of how Limoneira financed the project. The company partnered with Farm Credit West, which fronted the capital on 10-year terms. The lender enjoyed the benefit of being able to depreciate the expense, while Limoneira fixed its energy costs at 7 cents per kilowatt – a significant savings from its previous expense of 20 cents or more per kilowatt. After 10 years, Limoneira bought the solar field from the lender, providing the company with even more ROI.
But to truly become energy self-sufficient, Limoneira needed to be able to store energy produced during sunshine hours for use at night.
"The company's goal is to generate as many clean kilowatt hours as we use," says Edwards. "The future will be to provide a combination of solar-generated kilowatts, plus the ability to store that energy on batteries so that when the grid hits peak demand, they can take self-sustaining producers like us off."
The solution: Store by day, draw by night with Tesla batteries
A good friend of Edwards' was one of the original backers of Tesla; perhaps best known for its iconic electric vehicles, Tesla also supplies solar panels and batteries to generate and store clean energy.
"Ten years ago, we began to talk about ways to incorporate their battery technology to truly get us off the grid – load the batteries during the day [with solar energy or the grid's low-cost kilowatt hours], and then operate [from] them at night," says Edwards. "This will give us the opportunity to arbitrage that market."
A simple contract was signed, and Limoneira became Tesla's battery beta-test site with no capital up front. The relationship is mutual, Edwards notes; Limoneira gains the energy storage solution it needs, to achieve its goal of self-sufficiency while Tesla gains valuable insight into how their batteries interact with solar arrays and the grid.
The takeaway: Limoneira's sustainability focus has attracted customers
Limoneira's first investment in 2006 of $8 million generated an internal rate of return of 20-25 percent, and paid for itself in four to five years.
"And the technology continues to evolve," says Edwards. "What cost $8 million then now costs $4 million to generate the same kilowatt hours in half the footprint."
He encourages anyone interested in investing in solar to understand the investment costs versus energy savings they will realize, and to look into tax rebates and credits that might be available from states. For example, Edwards reports, there are opportunities for companies that have roof space, but don't want to go out of pocket to get clean energy.
"We just invested in another .75-megawatt array. The way we structured that was to create a power purchase agreement – we provided the space for utility suppliers to put panels on our roof, and in return we get a fixed price per kilowatt on some of the energy they produce," says Edwards. "We paid no capital out of our pocket, but we get the full benefit of the array because we get the reduced cost per kilowatt than if we had purchased them straight from the utility."
Edwards points out that there are two ways to look at sustainability investments. While generating energy more efficiently has delivered a clear return on the company's capital investment in solar technology, the other ROI has been a bit more obscure: the company's sustainability focus has attracted customers.
"The economics have been fantastic, but the ancillary benefits have been greater," says Edwards. "Being able to be a sustainable producer of clean energy to drive our operations has allowed us to become more attractive to our retail and foodservice customers, giving us greater market access."
He tells the story about when head buyers from two large foodservice customers visited Limoneira's facilities after its first solar investment.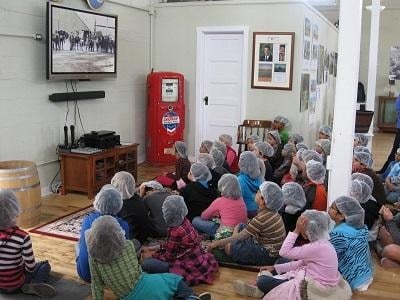 "Their reaction was almost disbelief, they both came back and said they wanted to buy their citrus from Limoneira," says Edwards. "That gave us the confidence that investing in clean energy was not only the right thing from an environmental perspective while also providing value to our shareholders, it also [helped us to] capture greater patronage and even pricing with customers who were willing to work with us."
Even the school field trips that Limoneira sponsors as part of its commitment to developing its communities return a myriad of value to the company. Visiting schoolchildren love seeing the herd of miniature English sheep that "mow" the dust-busting grasses under and around the solar arrays, Edwards says.
"We bring school kids in to talk to them about how the energy we produce fuels the foods we grow and they find in their supermarkets," says Edwards. "This helps our large-scale ag operation to relate with the community around us. And when they leave, they tell their moms they want them to buy Limoneira lemons."