Sustainability is about more than just being socially responsible for Pennsylvania's Four Seasons Produce Inc. – it's also about being financially viable. The company dramatically slashed its energy consumption by first investigating where they were using the most power. Four Seasons has cut its overall energy use per case it ships by more than half and is now producing about one-sixth of the energy it needs.
Company background: Producing excellence
Four Seasons Produce, Inc.'s Nelson Longenecker doesn't minimize it: "The traditional way we do business is not ultimately sustainable – if you look out into the future, the way we've operated cannot continue," the company's vice president of business innovation says of the fresh produce supply chain.
Sustainability can generate very real value for the companies that commit to it, he stresses.
"Sustainability isn't a 'feel good' thing," says Longenecker. "It is an imperative for our generation of business leaders to do business in a way that will be socially beneficial and, as importantly, financially viable."
By focusing on innovation – its mission is "growing ideas & producing excellence" – Four Seasons grew from humble beginnings in 1976 as a produce supplier to local restaurants and markets. Today, it is a full-service wholesale distributor of organic, local and conventional produce and other fresh foods, serving customers across the mid-Atlantic and Northeast.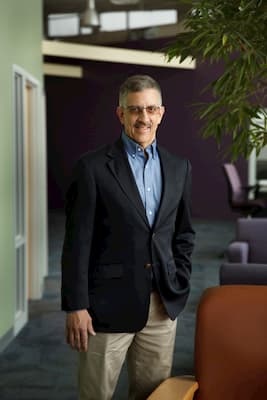 The Four Seasons family of companies also includes an importer, a refrigerated fleet operator and a logistics solutions provider. The combined family-held companies ship approximately 20 million cases annually and employ almost 800 associates.
When Four Seasons first formally put its sustainability commitment in writing in 2006, that strategy focused on reducing energy use, conserving resources and improving the environment. Now it also includes striving for sustainable wages and work-life balance for its employees – fulfilling its owners' purpose in "being a blessing".
The company seeks sustainability solutions that aren't just cutting edge but are also proven and cost-effective.
"You could call it 'being green to save green'," notes Randy Groff, Four Seasons' director of facilities and energy.
The challenge: Reducing power use
"For years, we've wanted to do rooftop solar. Our big, black, empty warehouse roof felt like a lost opportunity," says Jason Hollinger, president of the Four Seasons family of companies. But before that could happen, he says, the company had to "first focus on reducing power before producing power."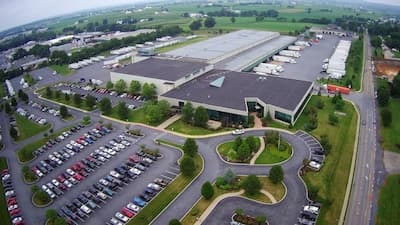 "Many companies traditionally operate in buildings that leak energy, with equipment that is not working at a high level of efficiency," says Longenecker. "That's quite honestly wasteful, and very fixable. When you replace equipment or build a new building, that's an opportunity to find ways to do more with less."
"When we moved into this facility, the engineers told us that it's going to consume a lot of energy," says Groff. "So we knew we had to make managing our energy use a high priority."
To identify where they were consuming the most energy, Four Seasons installed submeters throughout the facility, Groff reported.
"Our first energy efficiency project was to change the lighting in the warehouse," Groff said. "We are now 100 percent LED on the inside and outside."
To gain other energy efficiencies, the company:
added a variable frequency drive to one of its four hybrid refrigeration system compressors, allowing one compressor to ramp up and down during the day as needed to meet overall cold glycol system demand, rather than running 24/7 whether needed or not.
added valves to their refrigerant piping loop, to enable cold refrigerant to bypass a refrigerated room's evaporator if that room was already at its set temperature point, rather than pumping in more unneeded cold glycol.
changed the schedule for defrosting evaporators, to run heaters at staggered times in the day at a lower temperature and for shorter periods of time each run, thereby reducing the overall energy and cost to re-chill glycol.
They didn't necessarily get it right the first time, notes Longenecker. "We started in 2004 with metal halide lighting - which in hindsight doesn't make a lot of sense in a refrigerated facility."
They eventually moved to fluorescent, then LED, bulbs. Longenecker also noted that in 2008 their original GREEN! team – that stood for "Gaining Resource and Energy Efficiency Now!" – found multiple ways to save energy and reduce the company's footprint.
Over two dozen energy-efficiency projects since 2006 have cost thousands of dollars, but many returned their investment in two years or less. In all, because of its energy and resource conservation projects, Four Seasons reports that:
overall energy use has been reduced by 58 percent per case it ships, compared to the highest 12-month period in the past.

electric use is down 17 percent, and natural gas use is down 56 percent from their respective peaks.

the company has reduced waste per case it ships by 80 percent, recently achieving an 88 percent waste diversion rate.
The solution: Harvesting sunlight
In August 2018, Four Seasons unveiled an array of 3,900 solar panels on the company's warehouse roof, installed by vendor Namasté Solar. It is the largest solar installation at a refrigerated facility in Lancaster, Pennsylvania's sixth-largest county.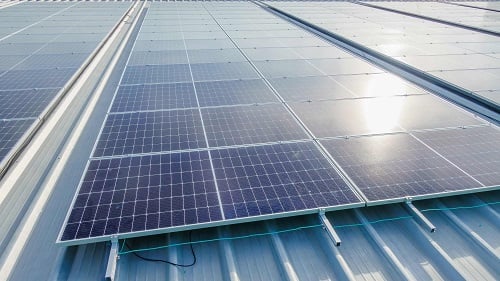 The array produces 1.3 megawatts of energy during peak daylight hours, providing one-sixth of the power used per year by Four Seasons' warehouse and headquarters offices. This is especially helpful to the regional grid, since refrigerated facility usage peaks during daylight hours.
The solar array will pay for itself in less than three years, says Longenecker.
Meanwhile, the energy the array creates is reducing Four Seasons' greenhouse gas emissions annually by the equivalent of:
nearly 3 million passenger car miles, or
1.3 million pounds of coal burned, or
as much carbon sequestering as 1,428 acres of forestland.
"Knowing that our big, previously empty roof is now harvesting energy using the same sunshine that grows the produce we sell is such a satisfying feeling," says Hollinger.
Four Seasons' warehouse was the first in the country to be awarded the Energy Star by the U.S. Environmental Protection Agency, in 2008. It was also the first building to be recognized by the U.S. Department of Energy as for practicing ISO 50001-based energy management, in 2017.
"When you do these energy efficiency projects, those savings that you estimated for one year, you are getting them for the next year and every year after," reminds Groff. "Every kilowatt hour you've removed from your energy footprint is one less you need produced from the grid or a solar panel," adds Longenecker.
Takeaway: ROI is measured in more than dollars
Four Seasons' commitment to sustainability has intangible return on investment, too, Longenecker reports.
"Doing business to ensure we continue to be relevant and sustainable into the next several generations is very energizing – for our team, and even for our customers. It raises the standard that we hold ourselves to," he says. "People are attracted to a company with a larger purpose."
"We have created an environment where our people can be focused on the customer. They can find the best way to serve that customer, and also be proud of the fact that we are looking to reduce our footprint and use fewer resources. Everyone wants to be part something that is looking at the impact on future generations."