According to The Economist, the growing populations of Bahrain, Kuwait, Oman, Qatar, Saudi Arabia and the UAE, also called the Gulf Cooperation Council (GCC), point to increased dependence on imported food staples. Food imports are projected to grow to US$53.1 billion by 2020. Major factors driving the GCC market include growing domestic and expat population, rising health consciousness among the population, changing tastes and preferences, and growing disposable income leading to higher consumption of nutritional foods as part of a stable diet.
The United Nations' figures reveal the population of GCC countries jumped by 18.9 percent in the last five years. In countries like Saudi Arabia the birth rate has topped 20 percent consistently in recent years. According to a report published by the Economist Intelligence Unit, by 2020 the GCC population is forecast to reach 53.5m, a 30 percent increase over the level in 2000.
IFPA reports that consumers with changing tastes are willing to pay a premium for an assortment of produce offering freshness, quality, flavor, safety and convenience. "Young and affluent Western food-loving consumers are driving the growth and demand for imported goods and foods in the Middle East," states an analyst from Mintel. In addition, there are healthy eating efforts toward purchasing more fruits and vegetables. Falling groundwater and aquifer levels in the Arabian Peninsula, limited rainfall, arid climate, overreliance on imports and rising soil salinity are affecting the fruits and vegetables market. The region's dependence on desalinated water means that meeting more of its food needs through domestic production is not an option in the long term.
Key import markets in the Middle East
Saudi Arabia, the UAE, Kuwait and Egypt are the largest markets for fresh produce imports. Saudi Arabia and the UAE account for over 2 percent of global fresh produce imports, and Saudi Arabia fresh produce imports are growing at a faster rate than global imports in the last five years.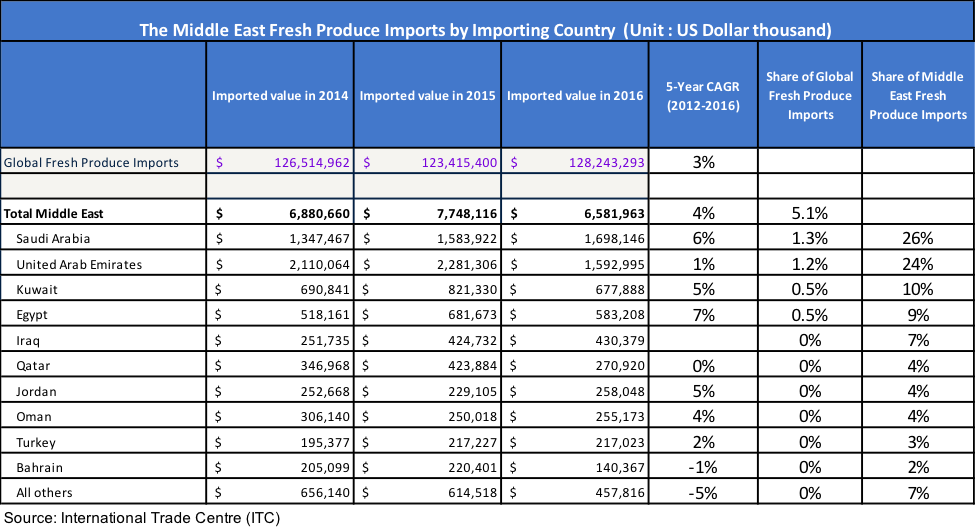 Top items imported
Citrus and berries are sizeable categories growing in the last three years. Berries increased +8% CAGR from 2014 through 2016.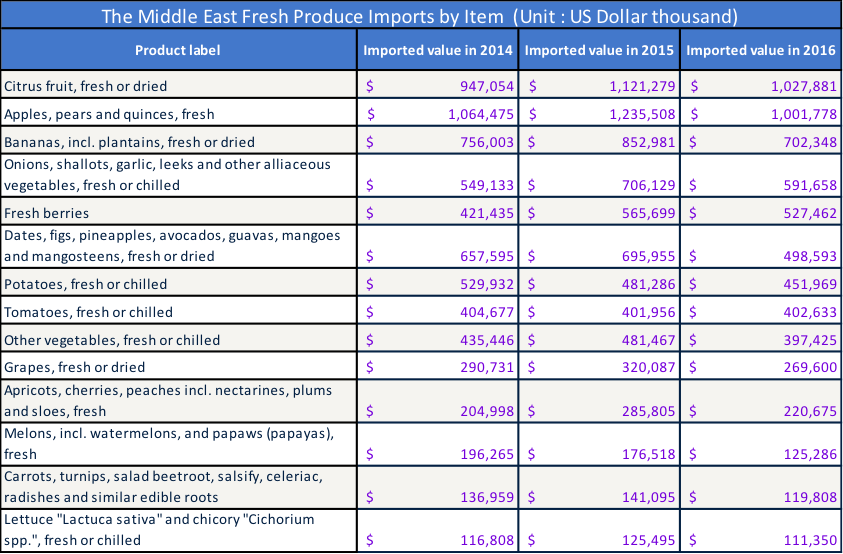 Who supplies the growing import markets in the Middle East?
In total, the Middle East is a net fresh produce exporter. About 40 percent of the Middle East's fresh produce imports are supplied by other Middle Eastern countries, with Egypt and Turkey being the two largest suppliers. But various other countries supply the rest.
The growing markets for fresh produce in Saudi Arabia, UAE and Kuwait have increased supply from various countries including South Africa, Europe, Latin America, and the Asia Pacific region, including Australia and India.