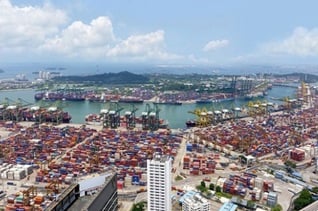 If you are interested in exporting fruits and vegetables to the U.S., you must understand all U.S. requirements and regulations associated with the process, including necessary documentation. Exporting food is a complicated process due to the fact that these commodities are directly related to public health and safety.
Fruits and vegetables imported into the U.S. must meet the same regulations as produce produced in the U.S., and products must be safe and contain no prohibited ingredients. Labeling and packaging are also critical components.
Exporting is complicated – work with a broker
The importance of understanding and complying with importing laws, regulations and requirements cannot be overemphasized. Mexican exporters may wish to obtain guidance from private-sector experts who specialize in importing produce into the U.S. , for example, licensed customs brokers (entry filer), attorneys or consultants. Customs brokers are the only persons authorized by the tariff laws of the United States to act as agents for Mexican exporters in the transaction of their customs business. Customs brokers are private individuals or firms licensed by U.S. Customs and Border Protection (CBP) to prepare and file the necessary customs entries, arrange for the payment of duties, take steps to effect the release of the goods in CBP custody, and otherwise represent their principals in customs matters.
Overview of U.S. Agencies Involved in Importing Fruits and Vegetables into the US
There are three U.S. government entities involved in the import of fruits and vegetables into the U.S.:
U.S. Department of Agricultural

Animal and Plant Health Inspection Service (APHIS)
Agricultural Marketing Service (AMS)

U.S. Food and Drug Administration (FDA)
U.S. Customs and Border Protection (CBP)
The U. S. Department of Agriculture Animal and Plant Health Inspection Service (APHIS) and U.S. Food and Drug Administration (FDA) determine the admissibility of various food products imported into the United States. The CBP enforces APHIS regulations at ports of entry. CBP agriculture specialists inspect shipments of imported products and ensure that the required permits and phytosanitary certificates (for plant products) accompany each shipment.

USDA's AMS enforces the federal marketing orders for fruits, vegetables, and specialty crops, as well as compliance with import regulations, including labeling requirements. Laws require specific fruit, vegetable, and specialty crop imports into the United States to meet the same or comparable grade, size, quality and maturity standards as domestic products covered by federal marketing orders.
How to determine if you can export your fruit and vegetable to the U.S.

APHIS makes sure that all imported agricultural products shipped to the United States from abroad meet the agency's entry requirements to exclude pests and diseases of agriculture.

If you want to export fresh fruits and vegetables for consumption, first check the Fruits and Vegetables Import Requirements (FAVIR) database to understand which fruits and vegetables by commodity or country are allowed. This also gives you the general requirements for their exportation to the United States, such as required treatments, special inspections, preclearance status, and/or approved arrival ports.
To export foreign fruits and vegetables, you must apply for an agricultural import permit from APHIS and obtain a phytosanitary certificate from the exporting country.
Attached is an APHIS Factsheet: Importing Food and Agricultural Products into the United States in Spanish.

Overview of FDA requirements
Under provisions of U.S. law contained in the U.S. Federal Food, Drug and Cosmetic Act, importers of food products, including fruits and vegetables, are responsible for ensuring that the products are safe, sanitary, and labeled according to U.S. requirements.
Exporters and/or importers of fruits and vegetables must register with FDA. All commercial food products are subject to prior notice filing with FDA.

Imported fruits and vegetables are subject to FDA inspection upon arrival at U.S. ports of entry. FDA may detain shipments of products if they are found not to be in compliance with U.S. requirements.

Overview of CBP requirements
CBP enforces the requirements set forth from APHIS and the FDA to allow fruits and vegetables to enter the U.S.
CBP will not release food shipments without proof that prior notice (PN) has been filed with FDA. Therefore, it is imperative that the PN satisfied number is submitted to CBP along with the entry documents. The PN satisfied number should be annotated on the shipping documents (i.e. bill of lading or airway bill).
In addition to the PN requirement, once the goods arrive in the U.S., FDA may collect a sample or tell CBP to proceed with releasing the shipment. If a sample is in violation of FDA regulations, you will receive a Notice of Detention from FDA. To find out the status of food that has been detained by FDA, call the number referenced on the detention notice or the main number for Import Operations and Policy at (301) 443-6553.
View the CBP's Guide: Importing into the United States A Guide for Commercial Importers

Overview of USDA AMS Requirements
It is the responsibility of the importer of record to have each imported lot (shipment) inspected for grade and quality by AMS. The importer is defined as the party responsible for clearing the goods through customs and could be the shipper, the receiver, or a third party such as a broker or attorney of record.
As of September 1, 2016, all imported fruit and vegetables subject to AMS regulation must be presented for inspection to AMS or its Federal-State partners as separate lots that correspond to each individual Customs Entry Number.
View more information on USDA's AMS import requirements
Other considerations for Mexican fresh produce exporters
While the information presented here provides a high-level summary of agencies a Mexican exporter may need to work with, there are many other details, regulations and paperwork needed for compliance. It is best to work with a broker.
Additionally, this document notes formal regulations necessary for exporting fruits and vegetables to the U.S. However, there may be additional requirements specific to U.S. buyers, such as food safety certifications, labeling or packaging.

Overview of Mexican Agencies Involved in Exporting Fruits and Vegetables from Mexico
If you are exporting fruits and vegetables to the U.S. from Mexico, you must understand the Mexican agencies and regulations associated with the process. Here is a high-level summary of Mexican government agencies' role:
SENASICA
SENASICA protects agriculture, water and livestock resources from economic and quarantine importance pests and diseases. Additionally, it regulates and promotes the application and certification of the food contamination risk reduction systems and its agri-food quality to facilitate the vegetal and animal-based domestic and international trade.
SAGARPA
SAGARPA promotes supporting policies to improve production, make better use of the comparative advantages of the agricultural sector, integrate rural environment into the rest of the economy's productive supply chains, and incite growers' organizations collaboration within their own programs and projects.
SAT
SAT is responsible for applying the fiscal and customs legislation with the goal that both individuals and companies contribute to public expenses on a proportional and equitable basis, inspect tax payers so they comply with tax and customs provisions; facilitate and encourage voluntary compliance, and generate and provide the necessary information for the design and evaluation of the tax policy.

COFEPRIS
COFEPRIS establishes and implements politics, programs and projects at the level of international best practice, under effective coordination with the different players in the public, private and social sectors, to prevent and assist on sanitary risks, contributing to public health.

Documents required to Export Fresh Produce to the U.S.

Attached is a summary guide to export fresh fruits and vegetables from Mexico, including the documents required by the customs broker to export. It is valuable for any Mexican exporter or Mexican companies interested in exporting to the U.S.:

1. Required export documents for a customs broker in Mexico and the Mexican government phytosanitary requirements.

2. Required export documents for a customs broker in the U.S. and the U.S. government phytosanitary requirements.