By Jason Hollinger, Vice President & General Manager, Four Seasons Produce
Four Seasons regularly uses surveys to gain feedback directly from our associates. The last several surveys provided some interesting insights, showing us that we needed to make some changes.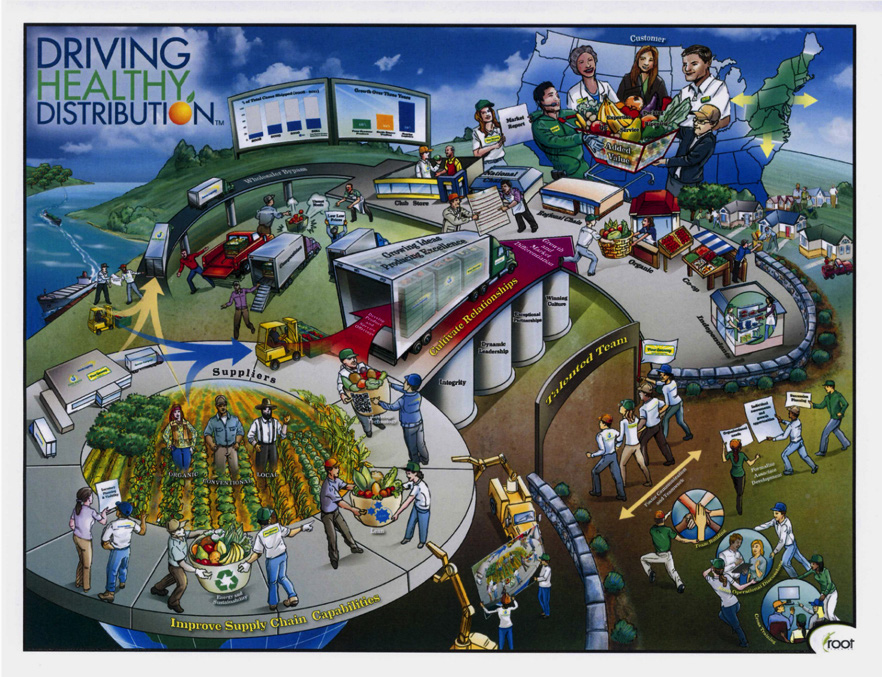 It was clear from our surveys that our associates respect our executives and believe in their ability to lead the organization. However, we also learned that they did not, in fact, have a solid understanding of our vision and strategies for the future.
Without this understanding, we knew they could not truly engage in their work or in our collective pursuit of that vision. This was further complicated by the fact that the organization has grown to have many different facets.
There are multiple companies operating within the family of companies, with many associates having a limited grasp of what each company does. We realized that we needed to help our workforce better understand our separate businesses, where the company was going, and how it would get there.
Most importantly, they needed to see how they impacted each other and the overall success of the company.
We think of ourselves as an innovative company, so we needed an innovative way to engage our associates. We needed a solution that would not only educate and inform our associates, but also instill passion and camaraderie. When we learned of Root's Strategic Learning Map® module, we were sold. It was just the vehicle we needed to speak to the hearts and minds of our associates.
The first step was to better understand our associates at every level, including hourly employees from packing and the warehouse. Through interviews with associates we identified the gaps in perception between leaders, managers and individual contributors about the business strategy and produced valuable anecdotes demonstrating the lack of understanding.
With Root's help and the feedback from associate focus groups, we developed a visual (see the Learning Map® above) that illustrated our vision of "Driving Healthy Distribution." We provided facilitated Learning Map® experiences to more than 400 associates. The experience was facilitated in groups of six to 10 people from all areas and levels of the company. It was led by associates (no managers) specially trained for the role. The experience included imaginative and custom visuals to drive discussion using data and provocative, open-ended questions. It also provided a way for associates to align on priorities and share a unique experience.
Our associates gave rave reviews about the Learning Map® process. While they previously struggled to see how other arms of the company were important to what they did, the Learning Map® dramatically altered that perception by visually showing how the different parts of the company worked together for the common vision. Once people saw and understood how their own success was tied to the family of companies, they were more understanding and supportive of what had to happen to be successful.
Beyond revealing the biggest gaps in understanding, interviews also revealed that the organization could better leverage their managers to work across the organization and deliver the messages of strategy without having to rely on the very most senior leadership. The Learning Map® experience provided success in many forms and resulted in a renewed energy and passion. Here's what we saw:
Our associates achieved a greater understanding of the reasons behind the formation of additional companies, and quickly became committed to the customers of all companies.
Our associates came out of group sessions with a much better understanding of the needs of our different companies. Mixing the groups across the entire organization exposed people to different perspectives.
People looked across the table at associates from sister companies and recognized the same commitment to excellence that they possessed. The passion was contagious and has begun to build better teamwork throughout the organization.
People walked out of these meetings with their heads high because the experience reaffirmed the great job they do for our customers, and clarified our vision and core strategies.
Following the Learning Map® experience, Four Seasons now has a newly energized workforce. Our people are more fully engaged and invested in the company's success. We cannot think of a more effective way of engaging people around our vision, and we are committed to maintaining that momentum. Four Seasons came out of the process as an organization that is more skilled at engaging our people in what our vision and strategy is all about.